GUN SAU is the new martial game/sport of close-quarter gunfighting!

I invented the term GUN SAU by combining Gun with Sau which means Hand in Chinese. My brother and I have been developing the art with my Dad who is a martial arts instructor. GUN SAU is a freestyle combat game using safe "handguns" in the trapping range. Parries, sweeps, locks, disarms and retentions are all part of the art.

PLEASE NOTE THAT GUN SAU IS NOT SUPPOSED TO BE USED FOR REAL SELF DEFENSE!!

IT IS JUST FOR EXERCISE AND FUN!

NEVER USE REAL GUNS IN TRAINING!!

NEVER USE REALISTIC REPLICA GUNS IF YOU ARE TRAINING IN PUBLIC!!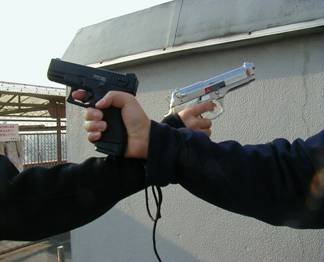 The classic Gun Sau Forearm cross position
How to get started

The best way to get started in GUN SAU is to rent the Equilibrium DVD. Watch the last fight between DuPont and Preston over and over. This fight is what inspired GUN SAU. Now use slow motion and try to copy what they are doing. Just slow the DVD down and try to follow the actors in slow motion. Don't move fast, don't worry about trying to score points, just get a feel for the style. Do it like a dance.

You will probably have noticed that the fight is not that realistic because they keep pointing the guns at each other but not firing. Well, that's Hollywood!! On this site I am going to show you how you can do this style as a freestyle game or combat sport.